Remembering Two Writers Who Took Us to Distant Lands and Places
Recognizing the birthdays of Margaret Murie and Ray Bradbury
This week's Bidwell Hollow highlights two writers who wrote about faraway places. Margaret Murie published a book about Alaska's Brooks Range, and Ray Bradbury wrote about futuristic Americas and distant planets.
You'll find stories about both below. And your list of this week's notable literary births and events is at the end of this email.
Thank you for your patience as I took a little break over the past two weeks. I'm restored and ready to resume giving you weekly tales about notable authors and poets.
To celebrate the return of these Today in Literary History emails, I'm making this issue of Bidwell Hollow available to all subscribers. Usually, these Monday emails are only for paid subscribers.
If you're not getting these emails and would like to, you can become a paid subscriber using the button below. A subscription is $5/month or $50/year.
Lastly, if you haven't completed the six-question, anonymous readership survey, I'd be ecstatic if you did so. Your opinion helps me make this newsletter the best I can for you. Submitting the survey will only take a minute, I promise. Thank you!
---
Margaret Murie Championed Conservation and Wrote an Exquisite Nature Book
Margaret Murie, whom friends called Mardy, married her husband, Olaus, at sunrise on the Alaskan frontier. The next day, Aug. 20, 1924, the newlyweds took a steamer up the Yukon River to await winter.
Olaus worked for the U.S. Bureau of Biological Survey, today's U.S. Fish and Wildlife Service, which tasked him with studying caribou that coming winter in Alaska's Brooks Range. Once the Yukon froze over, the Muries began their journey. They traveled 550 miles over eight months along the northern tip of North America.
Margaret, who was 22 at the time, had an epiphany during the expedition. One day Olaus was late returning to their camp. Margaret waited, worried, and then when Olaus did come back, she made a resolution.
"That hour on the snowy mountainside was good for me," Margaret wrote in her book Two in the Far North. "I came to terms with being a scientist's wife. Since then, in many camps, in many mountains, I have waited, and fed the children, and put them into their sleeping bags, and still, long past the normal hour, have kept busy—and waited."
Two in the Far North is a beautiful entrant in the nature writing genre. It's a memoir Margaret Murie wrote about her and Olaus's time in the Alaskan wilderness. After the initial expedition in the Brooks Range, the couple settled in Wyoming, but they often returned to Alaska.
Margaret wrote the book in the 1950s, as she and Olaus campaigned to preserve the natural lands they studied and loved. One area of focus for the Muries was the establishment of the Arctic National Wildlife Refuge, which Margaret covers in Two in the Far North.
"This area, roughly two hundred fifteen miles east to west and one hundred miles north to south, we all hope will become an Arctic Wildlife Range, of about nine million acres, so that one great representative unspoiled piece of arctic wilderness can be kept as it is, for basic scientific research and for recreation and inspiration for everyone who cares enough about untouched country to come and visit and leave it without the marks of man upon it," Margaret wrote.
In 1956, the Muries hosted Supreme Court Justice William O. Douglas on an expedition through the Brooks Range. Douglas, in turn, lobbied President Dwight Eisenhower to protect that area of Alaska. Eisenhower signed the Arctic National Wildlife Refuge into existence in 1960. (President Jimmy Carter later doubled the refuge's size in 1980, though the oil industry continues to threaten the region.)
Margaret Murie published only three books. She spent much of her 101 years championing conservation, earning a reputation as "the grandmother of the conservation movement." And Margaret welcomed a parade of visitors to the ranch she and Olaus owned near Wyoming's Teton Mountains. There Margaret kept a daily 4 p.m. tea time featuring "cry babies," ginger cookies she covered with white icing.
If you like nature writing, you'll probably enjoy Margaret Murie's Two in the Far North. The book takes you to a couple's place in the wilderness in the mid-20th century. At times, Margaret's writing is straightforward, and at others as majestic as the natural world she describes.
She wrote, "There's a land where the mountains are nameless, and the rivers run God knows where."
Margaret Murie
Born on Aug. 18, 1902, in Seattle, Wash.

Died on Oct. 19, 2003, in Moose, Wyo.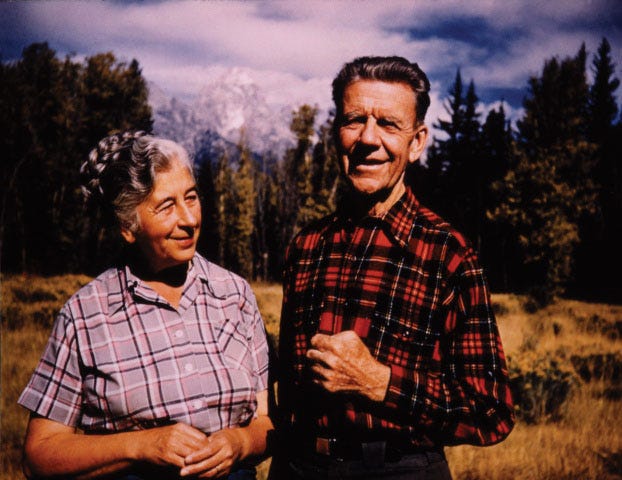 Above: Margaret Murie and her husband, Olaus.
---
Ray Bradbury Stalked the Stars and Then Became One
The year he turned 14, 1934, Ray Bradbury moved with his parents from Illinois to Los Angeles. They settled near Hollywood, and Bradbury quickly took to his new surroundings.
He spent his teenage summer days roller skating to the Paramount Studios and Columbia Studios movie lots. Bradbury would spot celebrities and ask them for autographs and to pose for photos. The boy snagged signatures and photos from stars such as Marlene Dietrich and Joel McCrea.
One day Bradbury was skating along Figueroa Street when he recognized a celebrity outside the Figueroa Playhouse. The star was an up-and-coming comedian who, along with his wife, headlined a popular radio program.
"I went up to him and said, 'Mr. Burns, you got your broadcast tonight, don't you?" Bradbury recalled. "He said, 'Yes.' I said, 'You don't have an audience in there, do you?' He said, 'No.' I said, 'Will you take me and let me be your audience?' So he took me in and put me in the front row, and the curtain went up, and I was in the audience for Burns and Allen."
And that's how Ray Bradbury met George Burns and the comedian's wife, Gracie Allen. The teenager skated over to the Playhouse every Wednesday to watch Burns and Allen broadcast "The Burns and Allen Show." Before long, Bradbury started giving Burns jokes he wrote for the program.
"They only used one," Bradbury said. "But they did use it."
Bradbury's time with Burns was what today we might call an unpaid internship. It started Bradbury's writing career. In 1937, Bradbury joined the Los Angeles Science Fiction League, connecting with established writers, including Edmond Hamilton and Robert Heinlein. And the magazine Imagine! published a Bradbury story for the first time in 1938.
Bradbury wrote every day, but it wasn't until 1946 that his diligence started paying off. That year he submitted a story to Weird Tales magazine. The publication rejected Bradbury's piece, so on a whim, he sent it unsolicited to Mademoiselle. The story landed in Mademoiselle's slush pile, where a young editorial assistant discovered it.
The assistant was Truman Capote. And the story was "Homecoming," about a teenage boy who feels like the outcast in a family of vampires. Mademoiselle built their Oct. 1946 Halloween issue around "Homecoming," giving Bradbury his first significant writing breakthrough. And the piece earned Bradbury an O. Henry Prize the following year.
"Homecoming" catapulted Bradbury's work. It also jumpstarted other writers throughout the years, including author Neil Gaiman.
"It was the first time anyone had ever written a story that spoke to me personally," Gaiman wrote in 2012.
Not long after "Homecoming" appeared in Mademoiselle, Bradbury released his first book, a story collection titled Dark Carnival. From there, the writer's name bylined stories in many magazines, from McCall's to Harper's. Bradbury's pieces ranged from tales about Mars ("The Martian Chronicles") to parenting ("The Veldt").
By the early 1950s, Bradbury was married to Marguerite, and the couple had two young daughters. He wrote in his garage. But as the babies turned into toddlers, they started interrupting their father's work, asking him to play with them. Bradbury obliged, to the detriment of his occupation.
"We had no income," Bradbury said. "I had to find a place to write and then come home to play later."
Bradbury rented a typewriter in the basement of UCLA's Lawrence Clark Powell Library. There, over nine days in 1952, Bradbury wrote a novel about a futuristic America that burns books. That book, Fahrenheit 451, turned Bradbury into a household name.
After Fahrenheit 451, Ray Bradbury's writing career reached, like some of the stories he wrote, astronomical levels. He developed a passionate fan following. And Bradbury frequently collaborated with the entertainment industry. He wrote the script for the 1956 John Huston film "Moby Dick" and the screenplay for the movie version of his story, "Something Wicked This Way Comes."
In his life, Bradbury published at least 23 books and wrote countless stories and scripts. The writer worked every day, but one day a week, he'd spend an afternoon watching movies and eating popcorn.
A few years before his death in 2012, an interviewer asked Bradbury, who'd been married to Marguerite for 56 years, what advice he had for new writers.
"Fall in love and stay in love," Bradbury said. "Do what you love, don't do anything else. Don't write for money. Write because you love to do something. If you write for money, you won't write anything worth reading."
Ray Bradbury
Born on Aug. 22, 1920, in Waukegan, Ill.

Died on June 5, 2012, in Los Angeles, Calif.
---
Sources
Significant effort goes into ensuring the information shared in Bidwell Hollow's Literary Stories is factual and accurate. However, errors can occur. If you see a factual error, please let me know by emailing nick@bidwellhollow.com. I'll make every effort to verify and correct any factual inaccuracies. Thank you.
Margaret Murie
Ray Bradbury
---
Notable Literary Births & Events, Aug. 17-23
Aug. 17
Even S. Connell

Jonathan Franzen

Ted Hughes

Herta Müller

V.S. Naipaul

Laurence Overtire

Rachel Pollack

Gene Stratton-Porter

Roots is published in 1976

Animal Farm is published in 1945
Aug. 18
Brian Aldiss

Paula Danziger

Nicole Krauss

Marko Marulić

Margaret Murie

Lolita is published in the U.S. in 1958
Aug. 19
James Gould Cozzens

Josephine Jacobsen

Frank McCourt

Ogden Nash

Veronica Roth
Aug. 20
Vasily Aksyonov

Edgar Guest

H.P. Lovecraft

Bolesław Prus

Jacqueline Susann

Benjamin Taylor
Aug. 21
X.J. Kennedy

Joseph McElroy

William Henry Ogilvie

Lucius Shepard

Robert Stone

Brad Thor

Henry James's The Wings of the Doves is published in 1902
Aug. 22
Ray Bradbury

James Kirkwood, Jr.

Dorothy Parker

Annie Proulx

Edward Rowe Snow
Aug. 23