Discover more from Bidwell Hollow
True but little-known stories about famous authors and poets.
Over 3,000 subscribers
Lee Klein Got 'Properly Addled' Then Wrote a Novel About the Experience
An interview with the author of 'Neutral Evil )))'
Lee Klein ate some marijuana edibles and went to see the experimental metal band Sunn O))) (pronounced "sun") in concert. Then Klein wrote a book about it.
That novel, Neutral Evil ))), is now available from Sagging Meniscus Press. You can get your copy of Neutral Evil ))) here (paid link).
Neutral Evil ))) is a piece of autofiction, a fictionalized biography, about Klein's experience at the Sunn O))) concert in March 2017, two months after Donald Trump's inauguration. Neutral Evil ))) takes us into the protagonist's mind at the concert as he considers topics including anxiety, social media, and morality.
Author M.J. Nicholls called Neutral Evil))) "an engaging and fat-hearted work." And João Reis, author of The Translator's Bride, said, "Sometimes depressing in its accuracy, in some other moments fun or funny, Lee Klein's latest book is an excellent novella one should read in a go."
Klein's a graduate of the Iowa Writers' Workshop. His other books include JRZDVLZ and The Shimmering Go-Between. Klein also translated Horacio Castellanos Moya's Revulsion: Thomas Bernhard in San Salvador, for which he received a 2015 PEN/Heim Translation Fund Award.
Enjoy Lee Klein's interview below. You can support Klein by sharing this article and buying Neutral Evil ))) (paid link). Thank you!
---
Interview with Lee Klein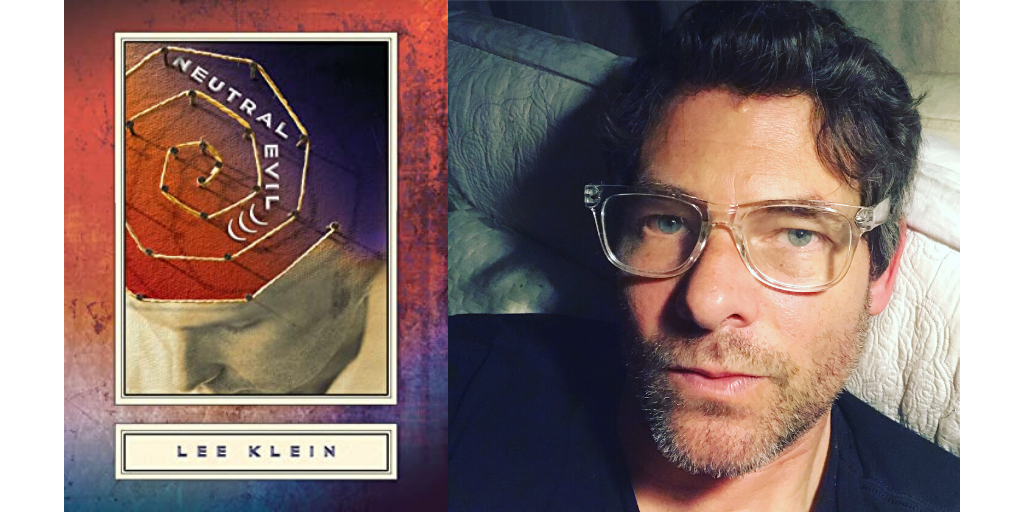 Can you tell us a little bit about yourself?
I grew up between Trenton and Princeton, N.J. I now live about 15 miles southwest of Philadelphia. I have a wife, daughter, two cats, and three chickens. I work in a professional editorial capacity for a large, generally well-respected STM (scientific, technical, and medical) publisher.
I suppose writing and reading are hobbies, although to justify the expense of my MFA, let's elevate them to "arts."
Can you explain who Sunn O))) is and what led you to attend the concert?
Sunn O))) are two guys who dress like druids and sing acapella about the Black Plague, the feudal system, and famous yet sadly forgotten druids of yore. I decided to attend the concert because I heard it can induce ecstatic experiences if you're properly addled.
What about the experience of being at the concert made you think there was a story here?
I was properly addled!
What, if anything, would be different about
Neutral Evil )))
if you wrote it today?
I should really write the lockdown/social distancing version in which I don't take the subway to the venue, don't stand in a crowd, and just sit around at home and stream a YouTube video of concert footage to my phone while wearing a scary rubber Halloween mask.
Do you have a typical writing process or routine?
I tend to write in the pre-dawn hours when everything is quiet, and I'm dangerously caffeinated. Before the pandemic slowed me down, I was thumbing text every morning into a Google doc on my phone while commuting to work on the train, but I usually write by hand and type it as soon as possible (before I lose the ability to decipher my severely forward-slanting scrawl).
I don't so much outline as have a series of destinations — an idea or an image or a scene — and otherwise, when composing, I try to move quickly and disappear into what I'm writing, not worry and just produce text, knowing I'll edit later on forever. 
Who are some of your favorite writers?
The dead writers who take up the most real estate on my current bookshelves are Tolstoy, Mann (the wildly under-read Joseph and His Brothers, translated by John E. Woods, is the only novel I've read comparable to War and Peace), Proust, Bernhard, Bolano, DFW, Woolf, Kafka, Zweig, Philip Roth, Julien Gracq (Balcony in the Forest), Perec (Life: A User's Manual), David Markson, but among the living (without feeling obligated to name every writer friend) I love Helen Dewitt (The Last Samurai), Paul Beatty (The Sellout), all of Knausgaard (particularly A Time for Everything), Mark Leyner, Cesar Aira, Horacio Castellanos Moya (whose Revulsion: Thomas Bernhard in San Salvador I translated), Rachel Cusk, Matias Enard.
I could go on for so long that by the time I was done, many on the living list would be no longer with us.
Have you read any good books lately?
All for Nothing by Walter Kempowski I read as the pandemic escalated and, although it's about the imminent arrival of Russian forces in East Germany toward the end of WWII, it's focus on small details and domesticity seemed unfortunately relevant to everyone's isolated domestic life as the cases, and death count grew from hundreds to thousands to tens of thousands and beyond.
Anything else you'd like Bidwell Hollow followers to know about you or your work?
I'm neither an experimental nor a conventional writer, the same way I'm neither an eccentric nor straightforward person. My father was an accountant, and my mother is an abstract expressionist painter. My last name means "small" in German, but I'm 6'3" and built like a linebacker.
And so it makes sense that I believe the purpose of literature is to champion the natural complexity of life over rampant oppositional reductions all around (Us vs. Them, Men vs. Women, Black vs. White, Red vs. Blue, Rich vs. Poor, etc., forever).
---
Go Premium for Less
You're getting the free version of Bidwell Hollow, but now through May 31, you can go premium for 25% off an annual subscription. That's $37.50 instead of $50 for 12 months of premium Bidwell Hollow.
Premium subscribers get:
Weekly edition of true stories about famous authors and poets with birthdays that week.

Discounts on the Bidwell Hollow Etsy store.

Access to all issues in the archives.

Have the ability to participate in subscriber-only comments.

All the perks of a free subscription.
---
Get More Bidwell Hollow
Follow Bidwell Hollow on Facebook and Instagram. And shop the Bidwell Hollow store on Etsy.
---
Disclosure: Bidwell Hollow supports local bookstores and independent publishers! Bidwell Hollow is a Bookshop affiliate. This means Bidwell Hollow earns a small commission anytime you purchase after clicking a paid link. The tiny amount of money Bidwell Hollow receives helps make this website possible. Thank you!