Discover more from Bidwell Hollow
True but little-known stories about famous authors and poets.
Over 3,000 subscribers
Gwen Goodkin Dissects America's Heartland in Her New Story Collection
An interview with the author of 'A Place Remote'
Gwen Goodkin wrote a book about people in the Middle. The stories in her collection, A Place Remote (paid link), feature Midwesterners in Ohio, where she grew up.
Goodkin's characters confront and cope with everything from the aftermath of the Vietnam War to alcoholism to smalltown middle-class expectations. Goodkin's tales probe these characters' minds and emotions, giving insight into rural Midwest Americans.
Being a product of the rural Midwest myself, Goodkin's stories ring true. Many of her stories' characters feel lifted from my upbringing and her dissection of the people who make up America's Middle is spot-on.
National political headlines often focus on rural Midwesterners, but we on the coasts and in the cities aren't often given the context that leads to understanding. A Place Remote is that context. It's a book to read if you want to better know those in the Middle.
Along with A Place Remote, Gwen Goodkin's published a novel, The Plant. She's received the John Steinbeck Award for Fiction and two Pushcart Prize nominations.
In the interview below, Gwen Goodkin talks about writing A Place Remote and if Midwesterners are as polite as people think.
You can get your copy of A Place Remote here (paid link) or through the links on Gwen Goodkin's website.
Thank you,
Nick
---
Support Gwen Goodkin by sharing this interview on social media or sending it to someone you think might enjoy it. Thanks for your support!
---
Interview with Gwen Goodkin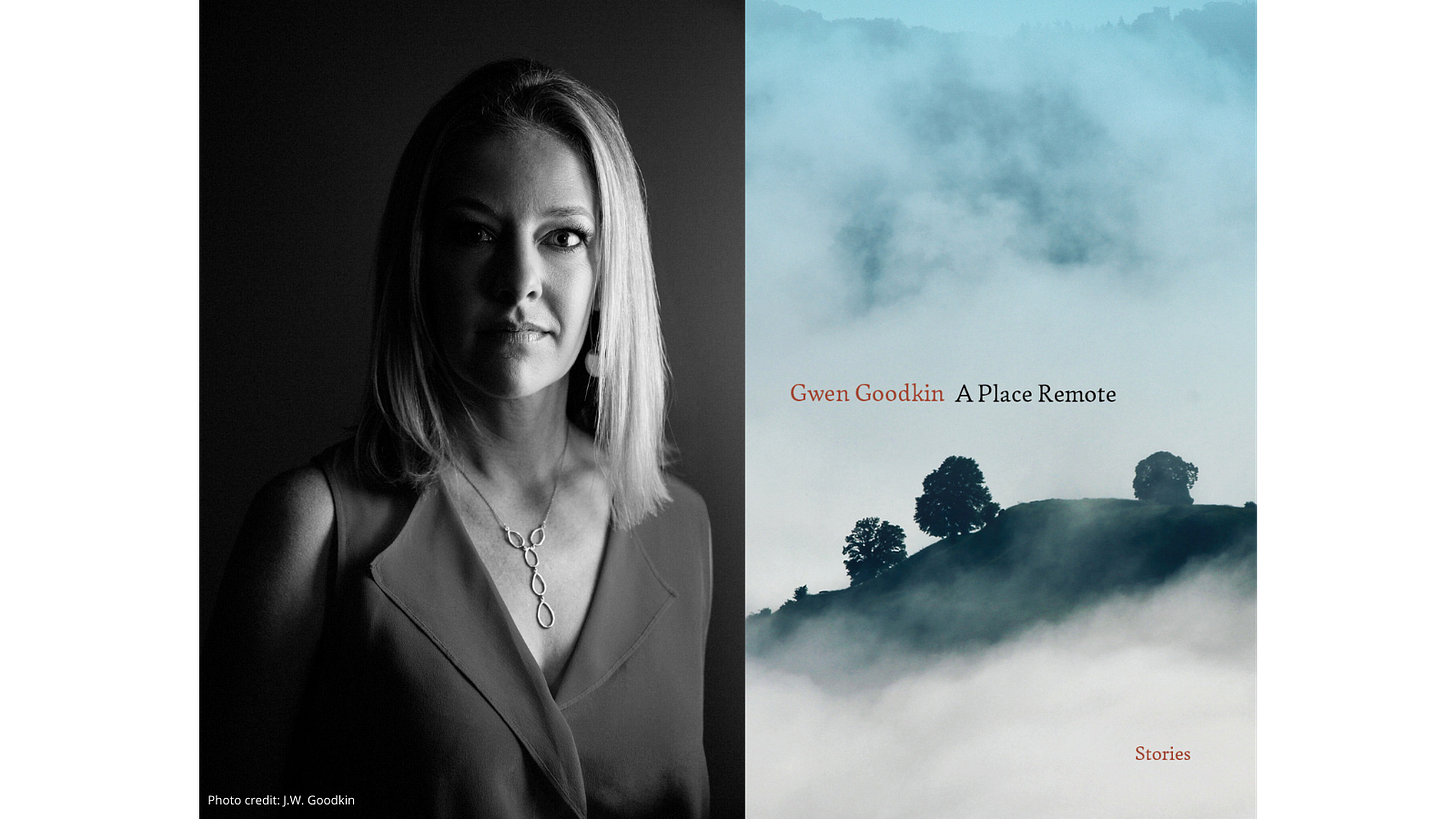 Can you tell us a little bit about yourself?
I was born in Ohio and lived there until I graduated from Ohio Wesleyan University. After that, I moved to Detroit where I worked at Chrysler. Then I moved to L.A. and, later, San Diego. I've lived in California for over seventeen years.
I have a miniature dachshund named Benny and three daughters. We bake a lot and two of the three girls love to ski – one refuses to wear the equipment but we're holding out hope she'll change her mind one day.
I've been a snowboarder for a long time. It's one of my favorite things to do. Mammoth Mountain is my home mountain, but my best time snowboarding was at Vail right after it snowed and I was boarding on the back bowls through powder like confetti. I love the piney, woodfire smell of a mountain and those rare moments when I'm alone, just the swish of snow underneath me and the birds chirping. It's pretty heavenly.
When did you start writing creatively?
I started writing poetry in college, but I wasn't very good. I didn't write anything when I lived in Detroit or L.A., but when I moved to San Diego, I was working from home, which meant I didn't meet a lot of people so I turned to writing as a way to keep busy. When I started, I was only writing fiction, but now I write non-fiction, stage plays, and screenplays.
When did you start submitting pieces for publishing?
I started submitting stories in 2006. Almost all submissions were sent exclusively through the mail, which was time-consuming. My first story was published in 2007 and then I stopped submitting for a while during grad school. My next story was published in 2013.
It was great to have my first story published, especially since it won the John Steinbeck Award, but it was more rewarding in a way to have the second one published because it'd been so long.
Your first story collection,
A Place Remote
, features tales and characters set in your native Ohio. Why was it important for you to tell these stories?
I began writing these stories as a way to process my life in Ohio and especially in a small town. I was born in Cleveland and lived part of my childhood in a suburb there, but then moved to a small town across the state as an adolescent.
Even though I'd only moved a few hours away in the state, I was unfamiliar with the social code and rules. And the rules of a small town were much different from that of a city suburb. Life in a suburb was aspirational. We were trying to move up in the world. In a small town, it's frowned upon to be aspirational – or at least to be vocal about it.
So, I had to learn new rules and I'm not a quick learner. I was also an outsider and, as a result, an observer, which is difficult for a kid but great for a writer. Part of me telling these stories is an effort to make sense of my life in that small town – what I did wrong, why I never quite fit in, what I miss about it.
Your book touches on many subjects. How did writing about these topics come about?
The stories dictate the topic rather than the other way around. I don't go into a story saying, I want to talk about single motherhood or the aftermath of war. The stories form around the characters and they bring in whatever issues they have.
What are the most prominent misconceptions people in California have about your home state? And what, if any, perceptions do they have that actually might be true?
I've heard many times over the years that Ohioans (and Midwesterners) are "nice." I've thought a lot about that and I've started responding that Ohioans aren't nice, they're considerate.
Midwesterners can be just as mean as the next person, but most of them won't be late for a meeting. Or, they're willing to go out of their way to pitch in and help when needed. There is a great community spirit in the Midwest that you can't always find in other places.
All that said, Midwesterners are dismantling the 'nice' stereotype themselves at Trump rallies when they call Hillary (and now Alexandria Ocasio-Cortez) a c— and a b— and when they storm the state houses armed to the hilt with automatic weapons, or when they have little girls dance on state capital steps in black face.
Who are some of your favorite writers?
Willa Cather, Jhumpa Lahiri, Margaret Atwood, Jamaica Kincaid, Lorraine Hansberry, Charlie Kaufman, Bill Watterson
What are some of the best books you've read lately?
I loved On Earth We're Briefly Gorgeous, Educated, and the Ferrante books.
Anything else you'd like Bidwell Hollow readers to know about you or your work?
I live in a beach town and don't really like going to the beach. I'm fair-skinned!
---
---
Disclosure: Bidwell Hollow supports local bookstores and independent publishers! Bidwell Hollow is a Bookshop affiliate. This means Bidwell Hollow earns a small commission anytime you purchase after clicking a paid link. The tiny amount of money Bidwell Hollow receives helps make this website possible. Thank you!