Fiction Became Reality While Margo Orlando Littell Wrote Her New Novel | Free Subscriber Edition
An interview with the author of 'The Distance from Four Points'
Margo Orlando Littell didn't plan on life imitating fiction. But that's exactly what happened when she became a landlord in her hometown.
In Littell's newest novel, The Distance from Four Points (paid link), a woman, Robin Besher, inherits decrepit rental properties in the rundown town where she grew up. Robin and her daughter, Haley, work to renovate the houses quickly so Robin can get out of town before anyone discovers her secret background as a teenage prostitute. But the past catches up to the present.
Littell wasn't a landlord when she started writing The Distance from Four Points. She was by the time she finished. Littell tells that story in the interview below.
The Distance from Four Points is Littell's second published novel. Her first, Each Vagabond by Name, came out in 2016.
I hope you enjoy this Q&A with Margo Orlando Littell. You can support her by sharing this interview and by buying The Distance from Four Points (paid link). Thank you!
---
Interview with Margo Orlando Littell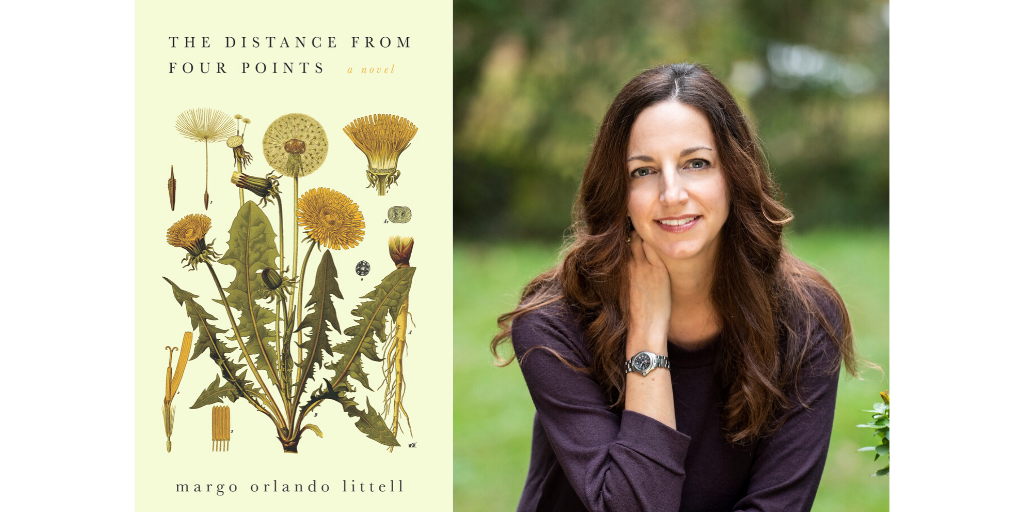 Can you tell us a little bit about yourself?
I grew up in a former coal-mining town in southwestern Pennsylvania and moved around a lot once I left. Dayton, New York City, Barcelona, Sacramento, back to New York City, and finally to New Jersey. Our house in New Jersey is the first home I've ever owned, and the longest I've lived in one place since my childhood home. I have two daughters who are 10 and 8 years old, and a mini labradoodle puppy named Farrah.
I've always been a writer, and that was what got me to New York—I went to Columbia for my MFA (Master of Fine Arts). After a lot of odd jobs, I worked as an editor and then a professional resume writer. I was always working on a novel, though. I've always had something in progress.  
Did you always know you'd move away from home?
I always knew I'd move away from southwestern Pennsylvania, and this was an unusual idea in the area where I grew up. Most people don't leave, or, if they leave, they don't go very far—Pittsburgh or Morgantown, maybe. There's kind of an understanding that where you're from is where you stay.
I never felt this way. I went to college in Dayton, but that wasn't far enough, and I never considered staying in Ohio after college. I always knew I wanted to move to New York. Once I did, I just kept going. I moved to Spain with my husband, and then we went to California.
We still travel a lot, now with our kids. All of us like adventuring, especially to big cities. Moving back to my hometown has never been part of the plan, though I visit several times a year and always love the time I get to spend there.  
Both your novels are set in fictionalized versions of where you grew up. What about your childhood home grabs you?
The longer I'm away from my hometown, the more I draw from it in my writing. I'm not sure I could have told these stories if I hadn't left, and it took time before I had enough distance to see beneath the surface.
For a while, as a newly urban young person, I could see only the funny small-town anecdotes that made good cocktail party conversation. I needed time to see deeper than that, to really gain an understanding of the place I'd lived.
It's a familiar place, but familiarity isn't what compels me to write about it. It's the contradictions that draw me in: the once-beautiful old homes that are now neglected rentals; the poverty that plays out against a spectacular mountain landscape.
I'm also drawn to that pervasive idea of never leaving home. What does it mean to both grow up and grow old in one place? How does a person change—or can they—when the people around them have known them since kindergarten?
A place this isolated also has a fraught relationship with outsiders, and with change. These ideas all spark stories for me. This part of the world is complicated and beautiful.
You, like your protagonist in
The Distance from Four Points
, became a landlord in your western Pennsylvania hometown. How's your landlording experience been?
While researching this novel, I went to my hometown and had a realtor take me into many residential properties that were for sale. I was interested in the most decrepit places, the homes that had been abused and abandoned, or that were being neglected by landlords. So many of these houses had ghosts of their old beauty, even as they actively crumbled.
In two instances, the door of a house actually fell off as the realtor went to let us in. But so much of their grandeur remained—original stained glass, turrets, wraparound porches. My hometown used to be a very wealthy coal- and coketown, and you can still see shadows of that past.
One house just captured my imagination, and I partnered with a friend to restore it. It was a red-brick three-story home with a gorgeous turret, tons of original woodwork inside, and even a tunnel in the basement. It was a wonderful house, and an amazing restoration. Pictures of the project went viral on Facebook, with over a million views.
The plan was to flip it. Then reality stepped in. No one really wanted or could afford a meticulously renovated, historically significant, five-bedroom home in that area. So we had to take in tenants. Becoming a small-town landlord was exactly what Robin does in The Distance from Four Points, and our paths kept intersecting in strange and unsettling ways.
For example, one of her properties has a squatter living in it, and we had to deal with a squatter in our property. Grist for the mill, you might think, but it's actually been too stressful to be only that. Small-town landlording is not for the faint of heart. Fortunately, as of this month, we've finally sold the house. 
Along with research, how else did you write this story?
I don't outline, and I write a lot of pages that I end up cutting. I have to write my way into my story. I do take a lot of notes before I write, brainstorming scenes and ideas, but the only way for me to really figure it all out is to start getting words on the page. 
What surprised me most about writing this novel was how much my view of the characters changed. For example, a character named Cindy, who is Robin's former best friend, was initially a brash, unpleasant minor character meant to highlight why Robin dislikes Four Points so much. But Cindy—underneath her harsh truth-telling—revealed herself to be this generous, loyal sidekick. I didn't plan for that.
The landlords were another surprise. I'd intended for them to be the villains—exploiting tenants, running their properties into the ground, not doing necessary maintenance—but then, thanks to my own landlording experiences, I gained an unexpected understanding. I didn't agree with their choices, but I understood why they might make them. There's nothing I enjoy more about the writing process than having my characters surprise me, when they take on a life of their own. 
University of New Orleans Press has published both your novels. How did you start working with them? Any tips or suggestions for unpublished authors seeking a publisher?
My first novel, Each Vagabond by Name, won the University of New Orleans Publishing Lab Prize in 2015, and the prize was publication by the press. They did a beautiful job with that novel, and when I had another manuscript, I approached them to see if they were interested. I'm fortunate to have found them. They make really beautiful books.
My advice to unpublished authors is to explore the world of small presses in addition to the major publishers. There are so many wonderful presses putting out amazing books, and many are publishing books that might not be seen as marketable by the larger houses. 
Who are some of your favorite writers?
I love Elizabeth Strout, both the Olive Kitteridge novels and the Lucy Barton novels. I've read and reread them, and there are just so many layers of heartbreaking beauty. I even went to see My Name Is Lucy Barton on Broadway, with Laura Linney. I love these books so much.
I also love Kent Haruf, particularly the Plainsong trilogy. If I had to read only these forever, I'd be perfectly happy never leaving the world of Holt, Colorado, the fictional town where all Haruf's work is set.
Have you read any good books lately?
Most recently, I read and enjoyed Writers & Lovers by Lily King. I loved how she depicted a young woman caught in that uncomfortable place when it's too late to change goals, and the only thing to do is to keep moving forward. And it made me nostalgic for my own waitressing days.
Right now I'm reading a new release called Exile Music by Jennifer Steil, which is about a Jewish family in Vienna who become refugees in Bolivia when the Germans invade Austria, and their very different reactions to their exile. It's a beautifully told story.
Anything else you'd like Bidwell Hollow followers to know about you or your work?
I have some odd collections. For example, I collect oil portraits of strangers—amateur ones, the creepier the better. I find them at rummage sales and hang them up in my attic stairwell. The collection often frightens me, but I love it.
I also collect library card catalogs. I have six of them, mostly from my hometown library in southwestern Pennsylvania. The library was transitioning to a digital catalog, and I placed the winning bid for their old card catalogs. I was absolutely desperate to get them.
I'd used these card catalogs when I was a kid, and they're beautiful. It took me months to get all the various components from my parents' garage in Pennsylvania to my house in New Jersey. Now they're everywhere—in the living room, our home library, the attic guest room. My only regret is that the drawers were already empty of cards by the time I bought them. Now they hold odds and ends that have no other place to live.
---
Go Premium
You're getting the free version of Bidwell Hollow, but you can get more by becoming a Premium Subscriber. A Premium Subscription is just $5/month or $50/year. You can cancel at any time.
Here's what Premium subscribers get:
Weekly edition of true stories about famous authors and poets with birthdays that week.

Discounts on the Bidwell Hollow Etsy store.

Access to all issues in the archives.

Have the ability to participate in subscriber-only comments.

All the perks of a free subscription.
---
Get More Bidwell Hollow
Follow Bidwell Hollow on Facebook and Instagram. And shop the Bidwell Hollow store on Etsy.
---
Disclosure: Bidwell Hollow supports local bookstores and independent publishers! Bidwell Hollow is a Bookshop affiliate. This means Bidwell Hollow earns a small commission anytime you purchase after clicking a paid link. The tiny amount of money Bidwell Hollow receives helps make this website possible. Thank you!