Emily K. Michael, Blind Poet, Finds Beauty Through Teaching and Writing Poetry
Michael's debut collection, Neoteny, is now available
Emily K. Michael is a blind poet and professor. I discovered her through an article about her debut poetry collection, Neoteny. The book is now available through Finishing Line Press (paid link).
Michael's poems have appeared in publications such as Wordgathering, The South Carolina Review, and The Deaf Poets Society. She teaches English at the University of North Florida.
Enjoy this interview with Michael. If you do, please consider sharing it on social media. And remember to grab a copy of Michael's collection, Neoteny (paid link).
Thank you,
Nick
---
Programming note: This is the final writer's interview I'll publish this year. The next two Tuesdays, the last of 2019, are Christmas Eve and New Year's Eve. On both days, instead of new interviews, I'll share answers to two fun questions I've asked writers throughout the year.
---
This interview is available to all Bidwell Hollow subscribers. Author and poet interviews will remain free, but paid-subscription content begins on Feb. 10, 2020. Subscribe before then to make sure you don't miss it. Your credit card won't be charged until Feb. 10. Or, keep your current free subscription, and you'll continue to get author and poet interviews emailed to you each Tuesday.
Now until Dec. 25, get 20% off a year's subscription when you give someone the gift of Bidwell Hollow. That's $40 for an entire year of Bidwell Hollow.
Interview with Emily K. Michael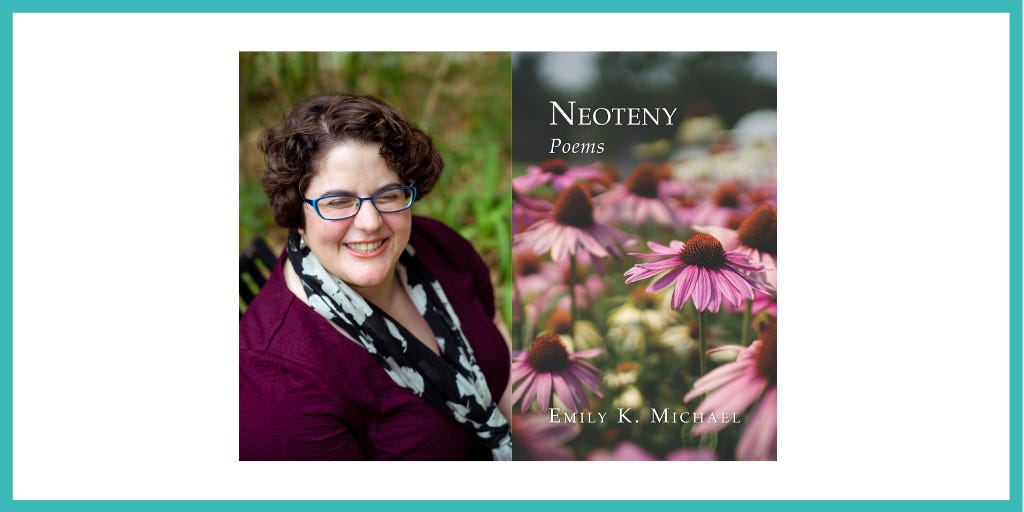 Can you tell us a little bit about yourself?
I grew up in Jacksonville, Florida, where I live now. I have always been involved in musical and literary activities. I participated in several plays in middle school and high school — always cast as a hilarious cameo character, which I preferred. I love to sing, and I have been singing in choirs and choruses since middle school.
In college, I majored in English and took classical voice, and I used to sing lead in an a cappella quartet. I also love to cook, spend time outside, and crochet.
How did you come to poetry?
I wrote some very bad song lyrics in middle school. I used to listen to musicals and operettas, and I thought I could be a librettist. My songs never took off, but I loved the intense attention to language that poetry offered.
I continued to write poetry throughout high school and college, but I did not spend much time revising or seriously considering my poetry. I was also working on a novel at the time, and I preferred to revise my prose. After graduate school, though, I returned to poetry and started submitting and publishing my work.
In a recent interview, you referenced taking a course on poetry and the body. What connection do you see between poetry and the physical body?
When people hear about "the body in poetry," they often think this is solely an erotic endeavor. But there must be a voice for the everyday physical experiences we all share — the weight of a teacup, the feel of a silk scarf, the sharp smell of citrus. Our bodies are gathering the material for our work each day, and we need to find our feet to understand where we are going.
Beginning poets often struggle with the desire to use abstract flowery language. To fix this overly intellectual approach, they need to be grounded in the tangible sensory experience right at their fingertips. 
So the body itself is a source of inspiration — how it moves and how things move around it. Poetry demands our quiet attention to ourselves and our world.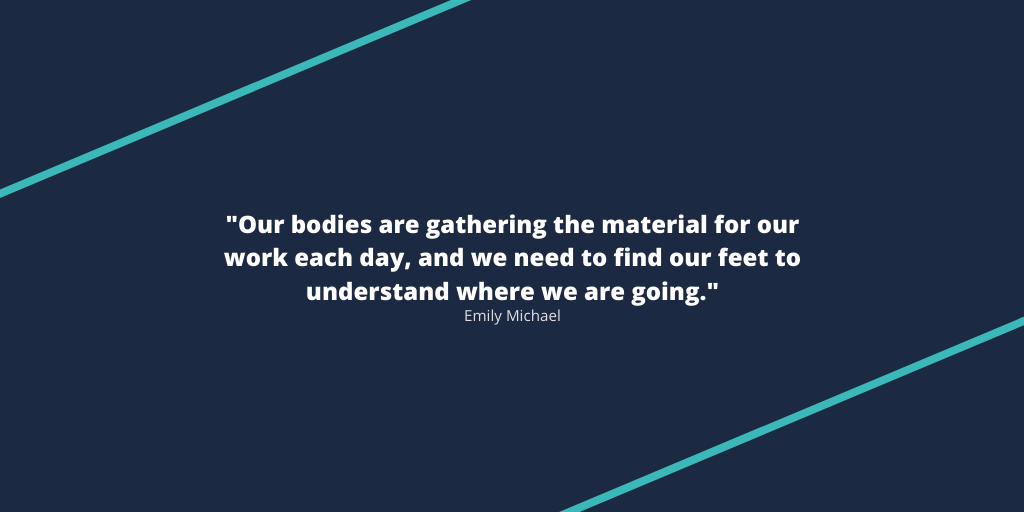 You also mentioned the unsolicited feedback you've received as a blind person about your body. How do you think that impacts your poetry?
When I talk about unsolicited advice, I am always talking about advice delivered without respect or consideration. I use these interactions to create funny poems that make a point. I think humor is the most useful way to show people how inappropriate their questions and comments are.
One of my poems, "A Phenomenology of Blindness," is a collection of all the wacky ideas people have expressed about my blindness — and when you put them all together, the absurdity can't help but make readers laugh.
Let's talk about
Neoteny
, your first poetry collection. What's the meaning, or significance, of the book's title?
"Neoteny" is a term I first heard in Dr. Stuart Brown's TED Talk on the importance of play. Neoteny is the retention of juvenile or childlike traits into adulthood. Dr. Brown said that humans are the most neotenous species, which is what helps us adapt to changing circumstances. I loved the sound of the word — as a poet does — and wanted to think of my collection as neotenous.
Poetry itself is neotenous, a way of adapting to challenging or overwhelming emotions, a way of building these big feelings into your daily reality. So the collection handles a range of emotions — love, anger, grief, nostalgia, wonder — and each feeling is treated playfully. 
Is there a message or theme you hope readers will take away from the book?
I call for attention and imagination. I want readers to realize that imagination is the muscle that builds a better world. Poetry is one way of training the imagination; it helps us see our circumstances from a different perspective and bring that perspective to bear on the rest of our culture or community.
I hope that Neoteny inspires readers to be more playful and take themselves less seriously, and I hope it helps them to see that we are all capable of wonder.
Who are some poets that you admire, either those in the past or present?
My favorite poet is Rainer Maria Rilke, though I'm not able to read him in his original German. Rilke's poetry is dreamy, showing a rich interior life, but also grounded in everyday images. I also love Seamus Heaney, Emily Dickinson, and William Stafford.
When I was in graduate school, I took a course in Old English and fell in love with Anglo-Saxon poetry. I love poetry that is hearty, earthy, and warm. I don't tend to enjoy intellectual or experimental poetry.
Have you read any good books lately?
Oh yes, I loved The Ravenmaster: My Life with the Ravens at the Tower of London by Christopher Skaife. I'm also wrapping up The Queens of Animation by Nathalia Holt. And I read Stephen Guppy's Writing and Workshopping Poetry to prepare for my poetry class this term; it's a wonderful introduction to the craft!
Anything else you'd like Bidwell Hollow readers to know about you or your work?
My dream is to be a teaching poet and offer community workshops either online or in person. As much as I love reading my work publicly, nothing compares to the joy of teaching. This semester I taught my first college-level poetry writing class, and it was the best teaching experience I have ever had. My students were sincere and energetic, and I loved helping them discover all the wonderful things a poem can do! 
Anne Lamotte says in Bird by Bird that if you want to publish so you can feel better about yourself, it won't work. You have to write and publish because you love your work, and you have to be prepared if others aren't as ecstatic about your work as you are. I love to write poetry and read poetry. But I love to teach poetry so much more. Teaching and learning about poetry together is what makes poetry feel alive and purposeful.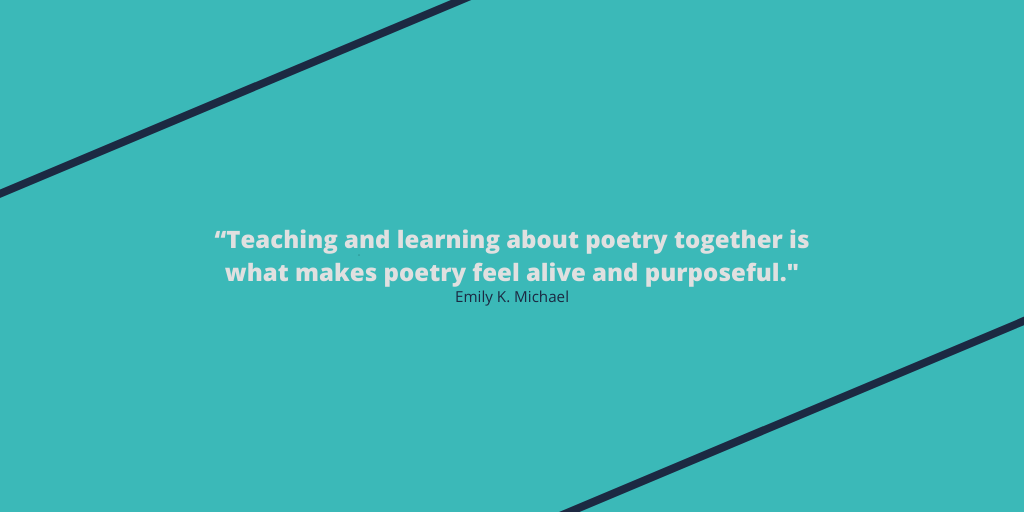 ---
Disclosure: Bidwell Hollow supports local bookstores and independent publishers by being an Indie Bound affiliate. This means Bidwell Hollow earns a small commission anytime you purchase after clicking a paid link. The tiny amount of money Bidwell Hollow receives helps make this website possible. Thank you!